Violent Incidents Against staff ARE increasing. Know what to look for in a staff safety solution
Staff safety solutions have come a long way. Whether you are an emergency department nurse, a hotel guest room attendant, or a classroom teacher, the need for a an SOS style panic device is increasing. But with so many types of companies and technologies hustling to address the market, its hard to know where to start.
Many customers are considering radio-based tags that take advantage of existing wireless infrastructure. Leveraging existing access points helps keep costs down and deployment complexities. And as the traditional access point evolves to combine more capabilities, they are becoming a delivery vehicle for a variety of services.
The following are 5 characteristics to consider when evaluating staff safety solutions that leverage your existing wireless infrastructure.
1. Ease of Deployment
Unlike solutions that require new wires to be run through the building, existing access points can "listen" for safety events from tags worn by staff and the public. When an emergency is triggered form the tag's button or switch, the location is calculated based on the surrounding access points and relayed to the vendor's software platform which acts based on response rules. Where access point coverage is incomplete, vendors are often able to augment with battery powered beacons or small AC powered gateways. Installation of AiRISTA's L2 beacon and G3 gateway take only seconds to assign and deploy. And because most tags and infrastructure support BLE as well as Wi-Fi, AiRISTA solutions are architected in a way that fail-over if one is not available.
2. Location Accuracy & Precision
Legacy access points positioned along a hallway might result in only 8-10 meters of accuracy. This could deliver location results representing as many as 4 rooms! Several techniques can improve accuracy including a site survey resulting in RF fingerprinting for each room.
New deployments typically install an access point in each room which will provide accuracy to individual rooms. New standards are introducing advanced location methodologies like BLE angle-of-arrival which delivered submeter accuracy. Vendors that offer submeter accuracy should also make available the precision (aka probability) of the calculated location. Submeter location calculations are less helpful if the location probability is low.
3. Tag Features
The simplest tags offer a single button to signal an emergency (e.g. AiRISTA's A1 tag). More functionality allows a tag greater functionality (e.g. AiRISTA's B4n tag).
Programmable buttons for things like escalation request
Message interface to help coordinate
LEDs and audible alerts to confirm alert detection
Man-down detection for an unresponsive victim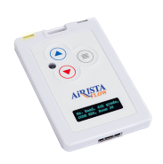 The deterrent effect is a subtle but important attribute of a tag. A tag that is more visible to other people with more sophistication is a greater deterrent and helps to avoid attacks. Note, AiRISTA solutions do not prevent attacks and rely on other parts of the customer network that might represent points of vulnerability.
4. Response Rules
Just as important as generating an SOS alert is coordinating the response. Options for notifying responders include text messages, console alerts and even email (which might not get the immediate attention of a text message. If responders also wear tags with alerting and messaging capability, the tag can act as a responding device. Check whether the system can interface with a 911 system. For larger facilities, response rules should rally responders who are closest to the event or have the most appropriate skills. AiRISTA's software platform and its user friendly sofia interface makes rule creation and management simple.
5. Event Replay & Complementary Features
The ability to record the "bread crumb" trail and timestamps of team members provides compelling documentation. Platforms like AiRISTA's provide a training mode where emergency drills can be recorded and replayed to help drive process improvement. And the workflow created by the customer to coordinate the response can be validated by the system for errors. The AiRISTA platform also provides workflows for activities that automate rounding of personnel like security officers based on location visited and duration.
Please contact AiRISTA for a demo of the sofia interface and variety of staff safety devices. salesinfo@airista.com