Although the pandemic reduced foot traffic, events like HIMSS have intangible benefits that will help it survive.
With increasing competition from alternatives to industry conferences, events like HIMSS faced challenges even before the pandemic.
People are getting accustomed to meeting virtually
Industry information and news about new products are easily accessed through web searches
Environmental impact associated with the carbon footprint generated by such in-person events
But the pandemic has delivered such a blow that its reasonable to ask if the pressure is insurmountable.
As a lead gen activity for exhibiting vendors, the ROI is even harder to justify
Economic impact of COVID has squeezed balance sheets which scrutinizes expenses
Travel is becoming a nightmare
As an event that typically draws 40,000, there were an estimated 19,000 and its not clear how many of those were exhibitors. As one vendor observed, if healthcare providers sent a delegation at all they held back their clinical staff due to the virus delta variant. According to an event employee, exhibitors were still pulling out on move in day. Some RTLS vendors simply sent a couple people to the roam the floor while others had no presence at all.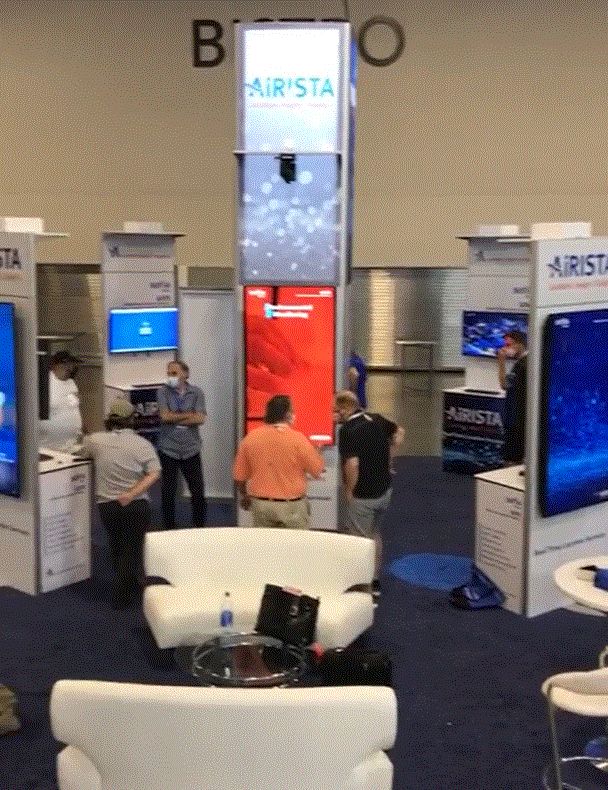 The AiRISTA booth was a large 20'x30′ space that allowed us to compare in a real physical sense the difference between Wi-Fi location accuracy (20'x20′), BLE proximity (6'x6′) and our introduction of BLE 5.1 support (a moving spotlight on the floor 1 meter in diameter). And despite the attention we gathered, broadcasts of these demos over social media drew a much larger following. See these links for examples of the demos.
HIMSS organizers deserve a lot of credit for creating a reasonably safe environment including requiring all attendees to provide proof of vaccination. HIMSS also offered a parallel virtual event for those not attending. Cisco Meraki, for example, chose to participate in the virtual event in lieu of a booth. AiRISTA joined Cisco Meraki in a recorded webinar as part of the virtual event titled, "Smart Spaces for Healthcare: Elevating Care with Insights".
But virtual events have risks of their own. According to Breaking Travel News, "This leaves exhibition organisers with a dilemma. They need to stay relevant and engaged by offering virtual events during lockdown, but in doing so they risk cannibalising their own core product, with technology creating experiences so beneficial that exhibitors might accept virtual events as the new normal."[1]
Despite the headwinds, events like HIMSS serve another important function. In this age of virtual interactions, as human beings we need to come together occasionally to reinvigorate relationships and remind each other we are more than a tile in a Zoom meeting. As one vendor described, the value was not the number of leads the event generated. Instead it was an opportunity to meet in person with other vendors and partners to put a human element to the relationship. At AiRISTA, we gathered for dinner each evening and even celebrated a couple of birthdays.
[1]
Breaking Travel News, "The future of travel exhibitions in a post-Covid-19 world", May 2020