The Market Update forecasts 20% CAGR over 5 years for location services.
AiRISTA is excited about the Bluetooth® SIG Market Update which confirms Bluetooth solutions are the way of the future. According to the Market Update, total annual Bluetooth device shipments will reach 5.4 billion in 2023 with an expected CAGR of 9% over the next 5 years.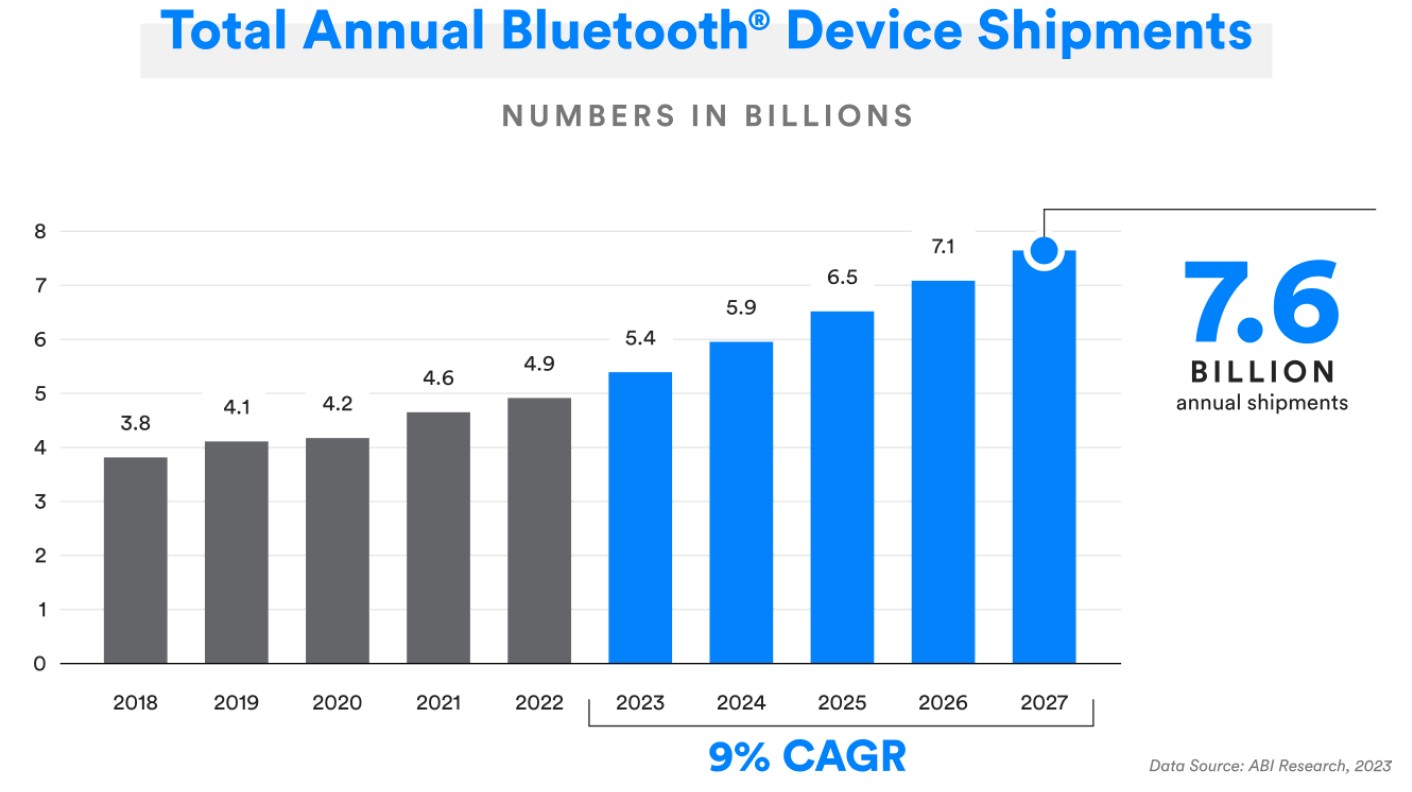 More specifically, location services will experience 20% CAGR through 2027 reaching unit shipments of 515 million annually.
| | | |
| --- | --- | --- |
| | | |
| "New regulatory safety requirements in manufacturing, more stringent compliance procedures, and sustainable operation measures are making RTLS solutions more viable than ever before." | | More commercial and industrial facilities are turning to Bluetooth asset tracking solutions to optimize resource and inventory control. Analysts conclude that, among Bluetooth Location Services devices, asset tracking anchor points and tags are major drivers behind continued growth. |
Other Markets
In addition to location services, the Bluetooth forecast is made up of device networks, audio solutions and data transfer.

Device networks typically connect to IOT style things for data connectivity. This market includes networked lighting controls, building/equipment monitoring systems, and electronic shelf labels.

Audio solutions includes wireless headsets, speakers and in-car systems.

Data transfer includes the market for wireless connectivity for consumer devices like fitness trackers, PC accessories and wellness equipment like blood pressure monitors.
Drivers for Tomorrow
High Accuracy Distance Measurement (HADM)
Rather than using received signal strength (RSSI) or angle of arrival (AoA), distances are determined using phase based ranging. Also called "channel sounding", the technology is accurate to 10-20cm and will be used in mass production with devices like vehicle key fobs.
Ambient IOT (Battery-less BLE)
As the name suggests, tags derive their power to generate a BLE signal by harvesting the energy in the ambient airway. Just as a passive RFID reader emits energy which excites a reflected signal from a passive tag, the energy from the RFID reader is replaced with energy in the ambient environment. This allows for low cost tags, eliminates battery concerns, and can collect environmental condition information in addition to location.
AiRISTA has put a focus on Bluetooth based solutions which will help us deliver more value to customers and break away from competitors.
Costs continue to decline as volumes surge
Energy efficiency mean s even greater battery life
Accuracy combines with increased precision to provide certainty with location
New use cases emerge as technologies like HADM and Ambient IOT enter the market
Please contact us to explore how the AiRISTA portfolio of software and hardware RTLS components can help you provide a platform for location insights. salesinfo@airista.com