The Bluetooth SIG has published the 2020 Market Update. The Bluetooth SIG is a nonprofit special interest group dedicated to the specification, qualification, and promotion of Bluetooth technology.
The Market Update examines;
The health of the member community

Trends for key Bluetooth solution areas

Trends in Bluetooth vertical markets
Bluetooth got its start with audio streaming. As devices like wireless headsets took off, this product segment ballooned to 1.1B shipments in 2019 and is expected to grow to 1.5B by 2024 (7% CAGR).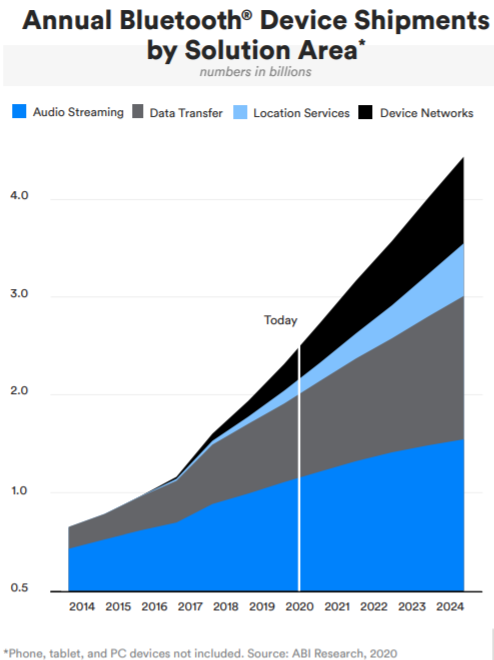 Growing at a faster rate and poised to overtake audio streaming is data transfer. Driven by IoT, Bluetooth provides data transfer without wires. Fitbits, blood pressure cuffs and even wireless keyboards have propelled this segment to an expected 1.5B devices by 2024 (13% CAGR).
Device networks is an even faster growing market segment. This includes automation systems (buildings' HVAC, lighting, security), control systems (Bluetooth mesh networks for M2M applications), and monitoring systems (smart building telemetry with temperature, humidity, etc.). This market is expected to grow to 900M devices by 2024 (26% CAGR).
The most dramatic growth is coming from location services which is expected to grow at 32% CAGR through 2024 (538M devices). At AiRISTA we leverage the latest technology from Texas Instruments to provide proximity based as well as triangulated location services. We are excited about the opportunities available with BLE 5.1 and support for Angle-of-Arrival, which provides submeter accuracy and location in the vertical dimension. We believe this will open exciting new use cases and begins to encroach on other wireless RTLS technologies. Also included in location tracking are;
Item Finding: Attach Bluetooth tags to personal items like keys to help find them
Way Finding: Indoor positioning systems act like GPS for indoors
Access Control: Wireless sensing replaces key cards for physical access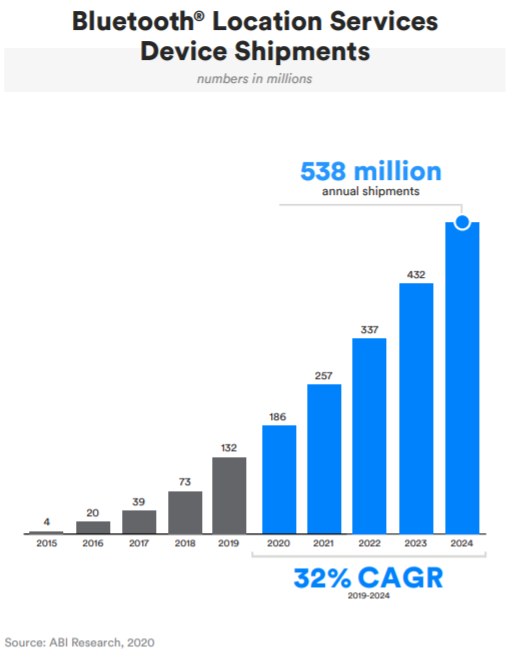 Like large forest fires or hurricanes, Bluetooth adoption is creating self-derived energy needed to not only sustain itself but to blow up into something massive. As a vendor making big investments in Bluetooth, AiRISTA is able to take advantage of new capabilities while we ride down the cost curve of consumerization.