Eliminate human error – Automate the monitoring and recording of temperature levels in Medication storage units.
To put healthcare waste in perspective, 18% of the US GDP is applied to healthcare. According to a JAMA article 30% the healthcare spending can be considered waste. This amount of waste ($760 – $935 billion) is more than the entire Defense Department budget.
One area of focus is the mismanagement of medications. As mediations represent one of the fastest areas of price inflation, it becomes imperative to focus on practices that reduce waste. Proper temperature maintenance of refrigeration units is a simple way to help avoid the loss of an entire refrigerator's contents.
Best Practices
Although the Joint Commission does not specifically require temperature logs for refrigerators and freezers, a process must be in place. Temperature logs are a simple technique to monitor refrigeration units. Logs are one of the recommended best practices described by The Georgia Collaborative ASO, Safe Storage, Handling, and Administration of Medication.
Temperature log

Medications should be stored in a locked room.

Schedule II through V medications should be double locked at all times.

Multi-dose vials of medications should be dated when opened and typically discarded after 28 days or returned to the pharmacy for disposal.

Multi-dose vials of medications should be refrigerated after being opened.

Expiration dates of medications should be noted and documented per your agency's protocol.

No drinks or food should be stored in a medication refrigerator.

Food used to give medications should be stored in a food refrigerator not the medication refrigerator
Johns Hopkins Pathology offers instructions and recommendations for manually recording temperature of refrigeration units including templates.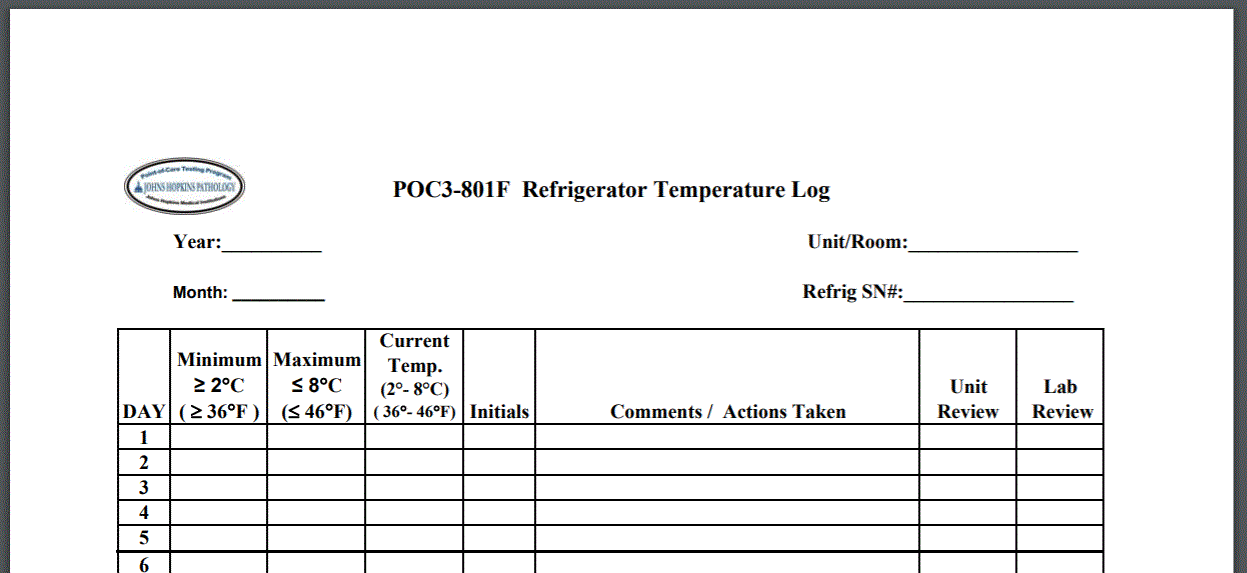 Some states have created requirements that go beyond the recommendations of the Joint Commission. Massachusetts, for example, requires pharmacies that close on certain days "have a mechanism in place to identify any temperature excursions. Each temperature log must identify the corresponding refrigerator or freezer unit, identify the reviewer (e.g. name or initials), and be readily retrievable upon request. Consider using a continuous recording device with alarm capabilities to include remote notification of excursions."
CDC guidelines
The CDC takes Recommendations from the Joint Commission a step further. In their Pink Book for Vaccine Storage and Handling, they require a temperature monitoring device (TMD) for any unit storing vaccines. A digital data logger (DDL) is recommended for continuous monitoring and reporting. A DDL is required in when storing vaccines for children (VFCs). DDLs should have the following characteristics.
Detachable probe that best reflects vaccine temperatures (e.g., a probe buffered with glycol, glass beads, sand, or Teflon®)

Alarm for out-of-range temperatures

Low-battery indicator

Current, minimum, and maximum temperature display

Recommended uncertainty of +/-0.5°C (+/-1°F)

Logging interval (or reading rate) that can be programmed by the user to measure and record temperatures at least every 30 minutes
The CDC's Vaccine Storage and Handling Toolkit describes more best practices and the steps to take in the event of a temperature excursion. Because TMDs accuracy can drift over time, they should be be calibrated every 2 to 3 years based on the manufacturer's recommendations. The certificate of calibration should include,
Model/device name or number

Serial number

Date of calibration (report or issue date)

Confirmation that the instrument passed testing (or instrument is in tolerance)

Recommended uncertainty of +/-0.5° C (+/-1° F) or less
The following steps are recommended in the event of a temperature excursion,
Notify the primary or alternate vaccine coordinator immediately or report the problem to their supervisor.

Label exposed vaccines "DO NOT USE" and placing them in a separate container apart from other vaccines.

The vaccine coordinator should document the event to include

Date and time of excursion

Storage unit temperature and the temperature of the room

General description of what happened

The length of time vaccine may have been affected, if using a DDL

Inventory of affected vaccines

List of items in the unit (including water bottles) other than vaccines

Any problems with the storage unit and/or affected vaccines before the event

Adjust the unit's temperature to the proper range.

Contact your vaccine manufacturer(s) per your SOPs for further guidance on whether to use affected vaccines and for information about whether patients will need to be recalled for revaccination.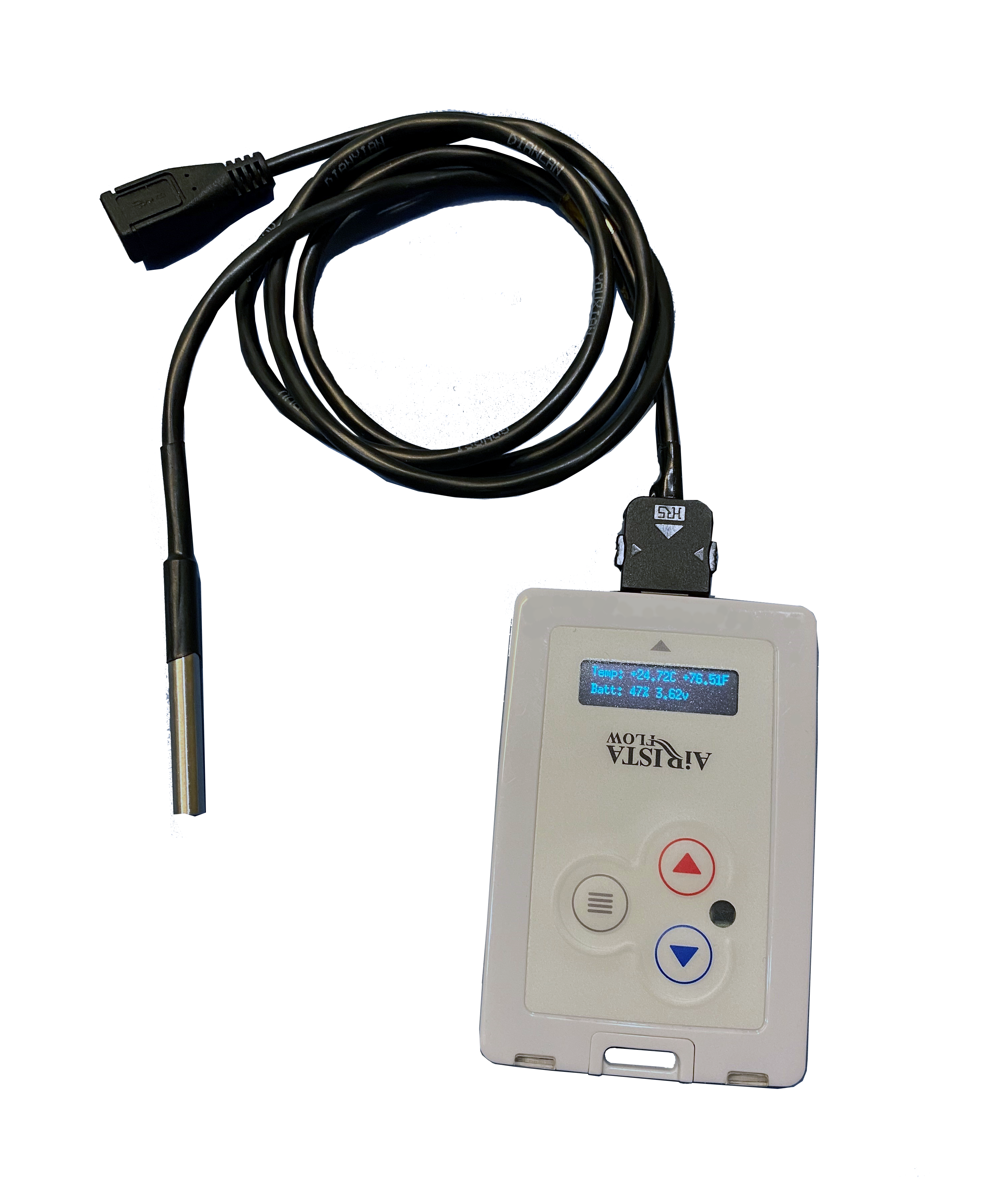 AiRISTA's Wi-Fi/BLE Temperature Tag with Display is a good example of a DDL which automates temperature logging and provides for a variety of alerts in the event of temperature excursions. The tag indicates temperature using its display interface in addition to remote temperature monitoring. The rechargeable tag can also be continuously charged via a USB interface. External probes provide a variety of temperature ranges. The tag can be programed over the air and includes software programmable buttons.
Contact
AiRISTA
for more information and to request a demo.