Making location information available to apps across the HDO increases ROI
Integration with other applications is a big reason for the explosive growth in the RTLS market. Solutions like AiRISTA's Flow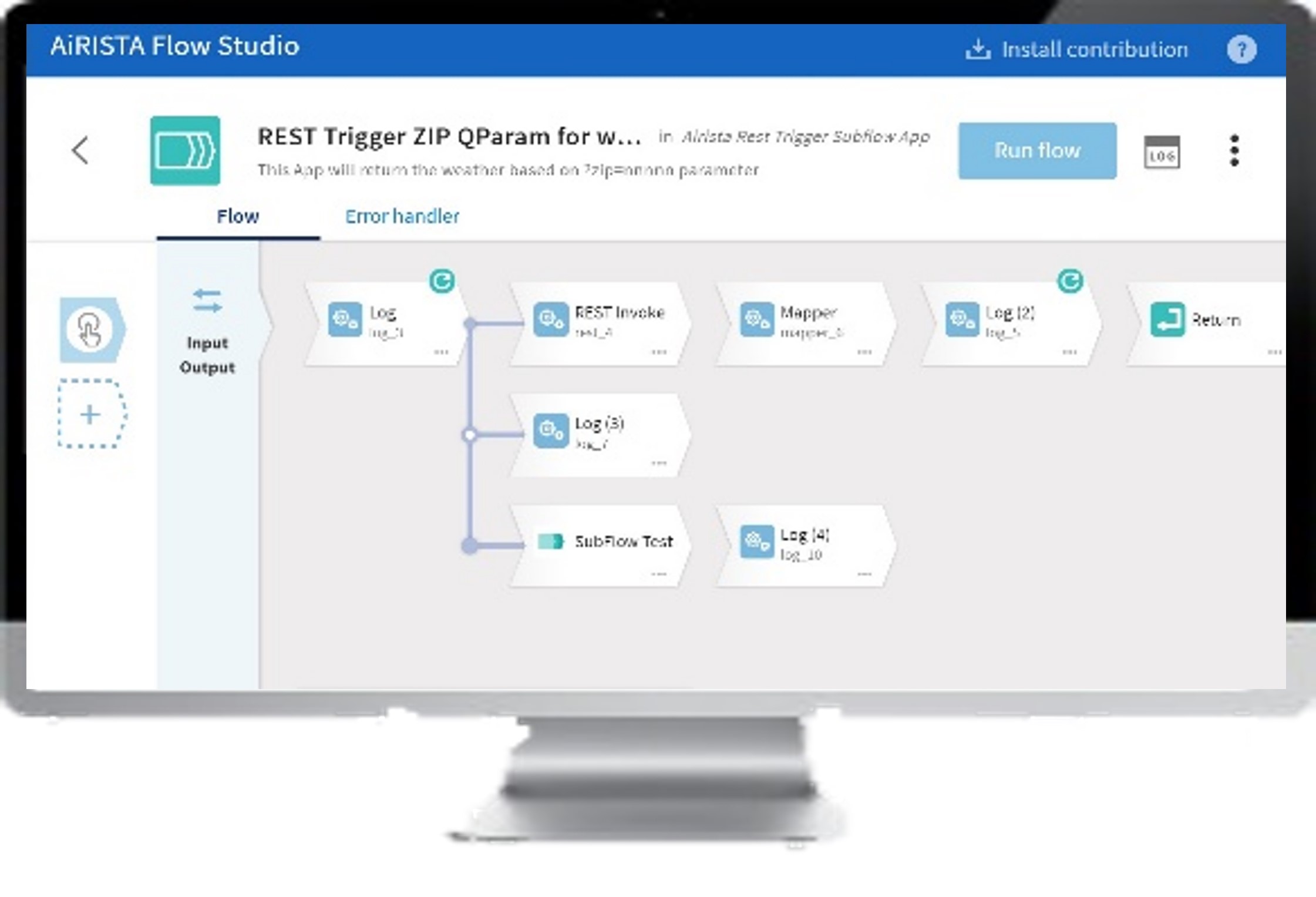 Studio make integration for healthcare delivery organizations (HDOs) as simple as dragging & dropping logic modules on a design pallet as part of a low-code integration UI.
"To use the data from RTLS to improve performance, it's important to have a scalable, enterprise-grade platform that can support one or multiple locations and can manage many applications in a centralized place," according to a survey by Health Facilities Management[1] in which AiRISTA was featured. Managing applications in a centralized place is what Oregon Health & Science University (OHSU) undertook when reimbursements were threatened because of federal healthcare reforms and HCAHPS scoring. OHSU saw the need to "leverage existing technology and systems to increase productivity, reduce costs, and increase patient satisfaction."
Solution
OHSU's approach, described in the AAMI article "Integrating Equipment Data from Multiple Sources"[2], began with the Clinical Technology Services (CTS) department teaming with IT for a two-pronged solution.
A single data input for all systems
An integration between the RTLS platform and infusion pump vendors to track the location as well as the state of a device
Ultimately, the list of systems that were part of the integration included,
RTLS
Maintenance management (CMMS)
Asset logistics utilization
Wireless infusion pump systems manager
Electronic medical record (EMR)
Temperature management
Voice over IP
Hospital paging
Hospital computer
Cellular messaging
Local audible/visible annunciators
As a baseline, OHSU analyzed the utilization of infusion pumps to understand the urgency of a request for a pump.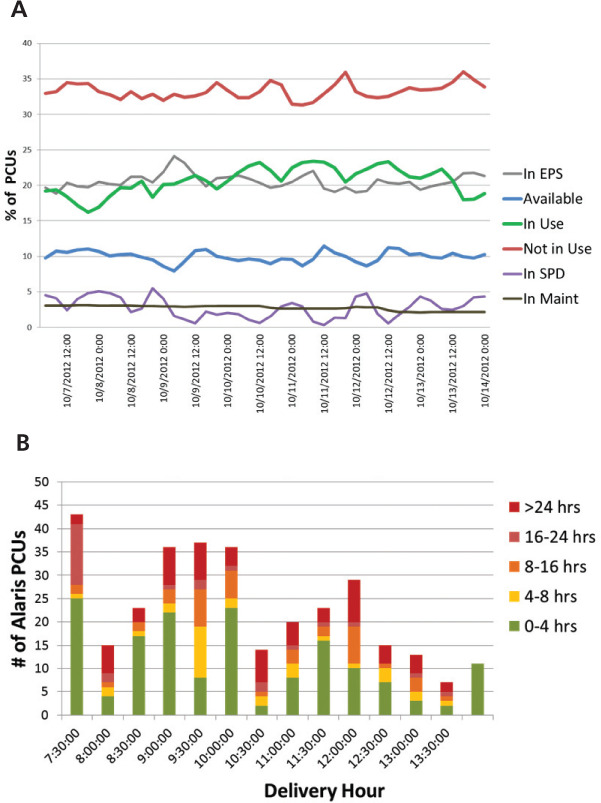 Graph A charts device utilization by status over the period of one week, and graph B shows the time an IV pump remains on a nursing unit before it is turned on for use.
Results
Increased efficiency was estimated at 15-20% as a result of integrating RTLS data with multiple systems. "Now we can get devices much more quickly to the clinician and apply them when needed to patient needs. And with such a high census, we can move patients as quickly as possible through the hospital." RTLS platform integration also improved maintenance performance. "Now we can track when and how long a device was used, or whether there was a call for a device but then it wasn't used for four hours, or whether a device had been unused for several days before being put into use."
The resulting systems improvements included,
One database with all clinical equipment information

One data-input source to populate the RTLS, Maintenance Management (CMMS), and Asset Logistics Utilization (ALU), thus reducing data input and maintenance requirements

Location system for devices due for preventative maintenance (shown in CMMS coming from RTLS system)

Location and redistribution system for devices via Equipment Pool Services (EPS) to meet patient and clinician needs during times of high census (device location shows in ALU coming from RTLS system)

Supply information is sent to EMR for billing: ALU sends billable supply to EMR when issued with devices such as sequential compression devices

System to identify the business status of a device (able to see in ALU if a device is in cleaning, in transit, or available for issue)

Integration of RTLS and the wireless infusion pump systems manager.
What's Next
The team is evaluating RTLS tags for patient tracking. If integrated with the EMR system, they hope to improve patient flow. For example, a patient in pre-op could be identified when they are ready to go to the operating room.
According to Dennis Minsent, Dir. Clinical Technology Services, OHSU, "Integrating data for multiple systems to generate actionable information is one way we as a profession can stay ahead of the healthcare reform tidal wave heading our way."
To support the expanding demand for cross-platform integrations, vendors need to do more than make API interfaces available. To help non-programmers support their own needs, tools are needed which abstract the underlying code and represents integrations as visual connections and use icons for conditions. Low-code design environments like AiRISTA's Flow Studio are brining in more people to address the need for integration talent.
To find out more about how AiRISTAs; RTLS solutions can help you get the most out of your staff and equipment, book a free demo today.
[1] Health Facilities Management, "RTLS Vendors Improve health facility efficiency", Neal Lorenzi, October 2022.
[2] AAMI, "Integrating Equipment Data from Multiple Systemes", Erika Hatva, May/June 2013