The Bluetooth SIG 2021 Market Update has been released and highlights location tracking as a leading area for growth.
Although the pandemic has stalled Bluetooth device shipments causing a 1-year shift in demand (2019 -> 2021), most markets will recover to previous forecasts by 2024. By 2025 an expected 6.4B annual shipments will be delivered.
32% CAGR in Bluetooth location services devices shipment from 2021 through 2025
Bluetooth asset tracking will be the leading use case for location services (personnel, material and equipment) accounting for 516,000 implementations by 2025.
4x growth in asset tracking tag shipments through 2025
5x growth in healthcare location services implementations by 2025
Of the four major solutions, Location Services and Device Networks are growing fastest.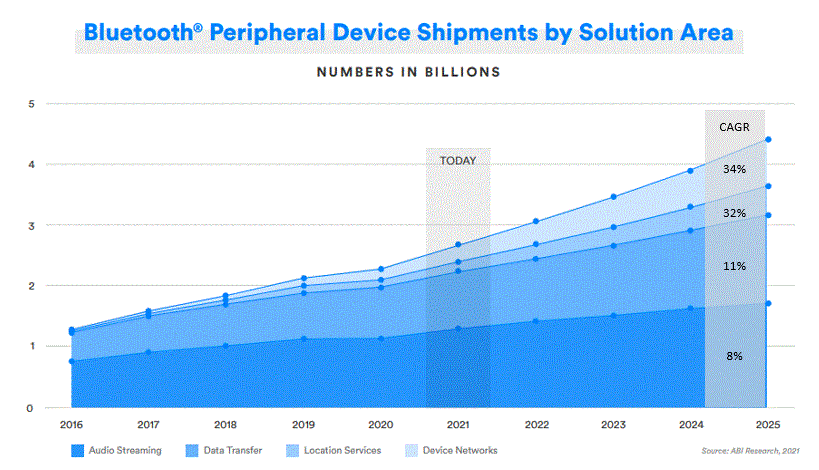 Audio streaming makes up the largest unit shipments, driven by wireless headphones like earbuds. 633 million Bluetooth headphones are expected to ship in 2021. Growth will also be fueled by worldwide need for hearing aids, the majority of which will be sold over the counter.
Close behind audio streaming solutions are data transfer devices, expected to reach 1.4 billion devices in 2025. Wearables like Fitbit devices and remote controls drive these shipments.
Device networks is the fastest growth solution at 34% CAGR through 2025. Growth is driven by home automation and smart lighting which use mesh networking technology.
At AiRISTA we continue to make significant investments in Bluetooth Low Energy based location technology. BLE is shattering previous barriers to location solution adoption – batteries that last as long as the asset, submeter accuracy, tracking in the vertical dimension, and costs that ride consumerization curves. Get a glimpse of some of the cool things in our R&D labs here. And be sure to see our line of location tags, all of which include BLE.
Download the report here.