"The indoor location services market to reach $55 billion revenue by 2030, up from $1.9 billion in 2021", according to Gartner®[1]
Its not often that a market sustains a 50% compound annualized growth rate (CAGR) over 9 years. That might be more typical of a small emerging technology registering a TAM (total available market) under $1B. So what's behind such rapid growth of a technology like real time location services (RTLS) that is already far along the maturity curve?
Interesting details emerge when you break down the numbers.
Asset tracking is the dominant use case followed by people tracking
Asset tracking has the highest growth rate (50% CAGR)
Market acceleration takes off after the technology has crossed the chasm (achieves 15% market penetration)
Asset tracking is the first to cross the chasm providing the longest window until 2030
"Since the pandemic, social distancing and contact tracing became part of many people-tracking offerings"

[1]
So what's behind the growth? According to AiRISTA, there seems to be a perfect storm of market effects.
#1 Internet of Things
Billions of new "things" are coming online as compute intelligence is added. One of the fundamental pieces of meta data associated with things is its location. According to Gartner "by 2025, 40% or nearly 890 million of new Internet of Things (IoT) "things" will know their location, up from under 10% (or less than 150 million today)."[1]
#2 Emergence of New Vendors
New vendors are emerging developing specific RTLS solutions embedded in "things". Such things as shopping carts now have wireless sensing that locks the wheels if taken off the property. Other new vendors are creating brand new use cases for specific industries and devices, essentially expanding the TAM.
#3 Ubiquitous Nature of BLE
Bluetooth™ Low Energy (BLE) is emerging as a centralizing technology around which a wide variety of use cases can be based on. BLE 5.0 increased the range encroaching on technologies like LoRa, and BLE 5.1 improves accuracy to under 1 meter and allows tracking in the vertical dimension encroaching on UWB. Batteryless BLE will rival passive RFID in terms of tag cost, but does not require additional readers since BLE radios are everywhere in our environment. Most wireless vendors now include BLE in their access points reducing the need for ancillary infrastructure. And as more devices adopt BLE, prices ride down the consumerization curve.
#4 Sensor Fusion
RTLS vendors are consolidating a wider range of technologies to provide comprehensive solutions. This includes combining video feeds with location tracking for better insight into conditions and events. And vendors like AiRISTA combine tracking technologies like GPS and BLE into a single tag to create solutions that track "things" even after they leave the building.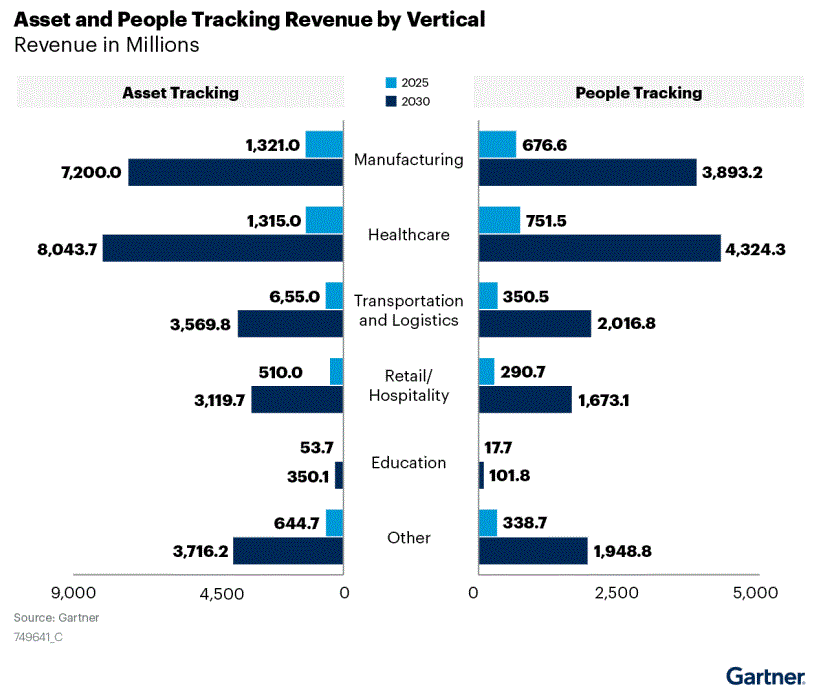 #5 Market Acceptance
Most major companies have some form of indoor location tracking and are seeing the ROI potential. According to the same Gartner report, "the healthcare sector in North America has been one of the strongest adopters – as this use case can be tied in with hospital appointment scheduling and parking location services."[2]
" Manufacturing follows closely, and in the case of both, asset tracking will be larger than people tracking.
[1] Gartner, Emerging Technologies, Venture Capital Growth Insights for Indoor Location©, Annette Zimmerman, Danielle Casey, Tim Zimmerman, Gartner, May 14, 2021
[2] Gartner, "Emerging Technologies: Revenue Opportunity Projection of Indoor Location Services" Annette Zimmermann, Ranjit Atwal, 16 June 2021
GARTNER is a registered trademark and service mark of Gartner Inc. and/or its affiliates in the U.S. and internationally and is used herein with permission. All rights reserved.