RTLS solutions appear in wide variety of Gartner Hype Cycles confirming broad application and contributes to exponential growth predictions.
"90% of people believe they are above average." Often referred to as the Lake Wobegon Effect, the illusion of superiority was measured by David Dunning and Justin Kruger in their 1999 study. Students who took a quiz were asked to estimate how well they did. The bottom quartile of performers tend to see themselves as being part of the top two quartiles.
Gartner uses the Dunning-Kruger Effect to evaluate the expectations about technologies and markets through their evolution in analysis known as Hype Cycles. A Hype Cycle is a graph of a technology's maturity over time and the roller coaster of expectations surrounding it.
Gartner Hype Cycles
Gartner defines each phase as follows.
Technology Trigger: a breakthrough that creates media and industry interest
Peak of Inflated Expectations: overenthusiasm results in some successes but more failures as the technology is pushed to its limits
Trough of Disillusionment: interest wanes as promises are undelivered
Slope of Enlightenment: as more implementations across a wide of organizations iron out the kinks, the technology becomes more practical
Plateau of Productivity: adoption takes off and the value to the customer become apparent
The Hype Cycle for Healthcare Providers (2020) positions Real Time Location at the farthest leftmost position representing the most mature technology. Examples of other technologies and their positions include;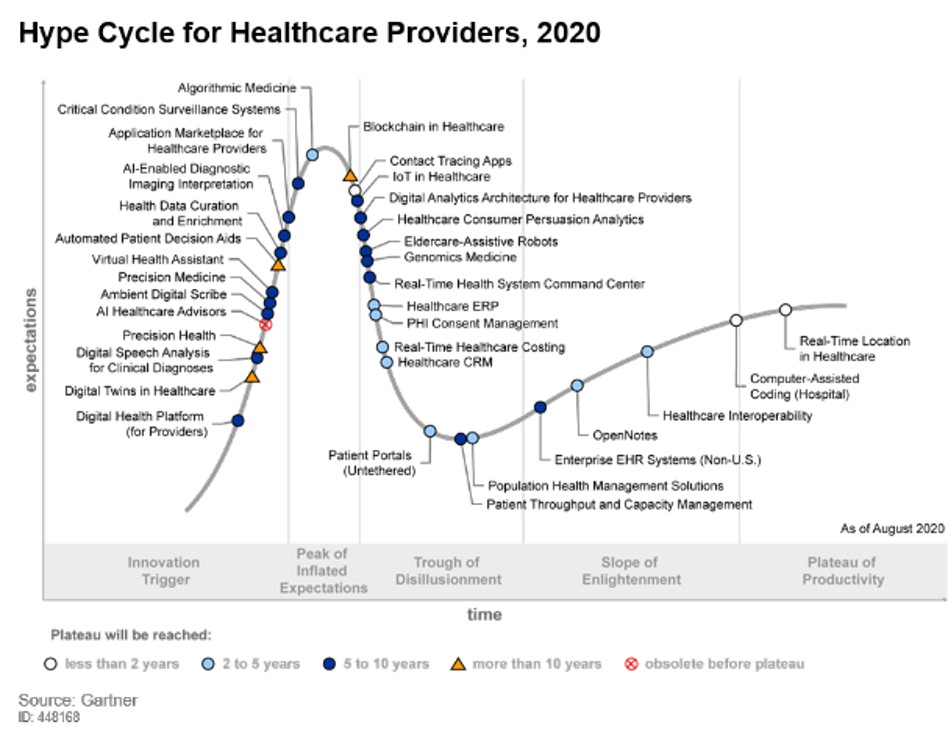 Trigger: digital twin, digital health platform, virtual health assistant
Peak: algorithmic medicine, blockchain
Trough: elder-care-assistive robots, Healthcare ERP, real-time healthcare costing
Enlightenment: OpenNotes, computer assisted coding
Plateau: real-time location
Gartner's Growth Projections for the RTLS market
Gartner believes the RTLS market is poised for significant growth. According to a 2021 report, the RTLS market is "expected to reach global revenue of $55 billion by 2030 up from $1.9 billion in 2021."[1] That's a sustained CAGR of nearly 50%! One of the reasons for the growth in the RTLS market is its applicability across many markets. Gartner Hype Cycle reports include RTLS in a wide range of markets. In most instances, RTLS is positioned on the Plateau portion of the curve.
Since 2020, AiRISTA has appeared in no less than 11 Hype Cycle reports. Click for report below (license required).
Through its investment in the latest technology and commitment to customer success, AiRISTA was recognized as a LEADER in Gartner's Magic Quadrant for Indoor Location Services 2022. Click here for a free download of the report.
To find out more about how AiRISTA RTLS software can help you get the most out of your equipment, patient care and staff management, book a free demo today.
[1] Gartner, "Emerging Technologies: Revenue Opportunity Projection of Indoor Location Services", Anette Zimmerman, Ranjit Atwal, June 2021